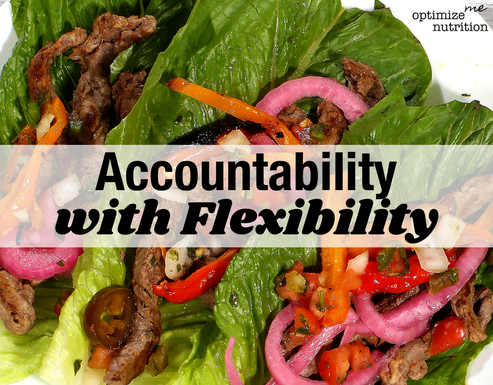 JOIN THE LAZY MACROS CHALLENGE    
(#800gCHALLENGE® + PROTEIN)   
WHAT IS IT?
This challenge was designed by OptimizeMe Nutrition and focuses on ensuring a baseline level of fruits, veggies, and protein every day -- without weighing and measuring everything and without restricting anything! Hence, it's "lazy" but still offers significant results. 
It combines the #800gChallenge® (eating 800 grams, by weight, of fruits and veggies each day) with a protein target.  By setting a target on these underrepresented items in most diets, the overall quantity is reduced as well as a more even macronutrient balance is achieved.
In addition, points are awarded for working out AND achieving enough sleep - an important and overlooked aspect to one's goals. Therefore, the Lazy Macros Challenge tackles the 4 major areas (diet quality, diet quantity, exercise, and sleep) that affect the goals most everyone wants: better body composition, performance, and overall health. Here's a one-sheet with all the rules and scoring details.
DATES
Jan 11th 2021 - Feb 10 2021 
SIGN-UP
You can register https://app.wodifyrise.com/Event/Preview.aspx?EventId=12786
ONLINE MEETING
We will host a online meeting to go over all the challenge rules and answer your questions. Be sure to be there!
Nutrition CrossFit Thalwil Lazy Macro Challenge
January 9th 2021 - 10:00 AM Zürich 
https://us02web.zoom.us/j/6235310336?pwd=b2lCaHJxV0VIUXFkY1FxcFUvMzFrZz09 
COST
FREE for Active Members.
CHF 160.- for non-Members.
SCORING
We will be using Wodify Rise to log scores and leaderboard throughout the challenge. More info on scoring can be found here.
PRIZES
Goodie Basket with Giftcard worth of 250.-